Better-than-barefoot running!

Click Here for the story!
Invisible Shoes®are a modern spin on the traditional barefoot running sandal — durable, stylish and affordable — and so light and low-profile it's like you're not wearing anything. Yet, you get a strong layer of protection, your feet and legs work the way nature intended, your posture can naturally realign, and you awaken your senses and stimulate your brain as you Feel The World™.
Thanks to Chris McDougall's inspiring and exciting best-selling book, Born to Run, and research from Harvard's Daniel Lieberman, people all around the world are re-discovering the magic of barefoot running and natural movement.
Many people describe how barefoot running has improved their running, healed old injuries, strengthened their feet and legs, turned flat feet into feet with arches, and much more.
One big worry about barefoot running, not surprisingly, is all the stuff on the ground that can hurt and cut your feet, plus all the dirt you have to wash off when you're finished running. And most stores and restaurants won't let you in without shoes.
That's why you'll want a pair of Invisible Shoes.
In his book, Chris McDougall describes huaraches, the running sandals of the Tarahumara Indians: a strip of rubber from an old tire and some string or lace to hold it on.
Invisible Shoes are a hi-tech update of huaraches. They're lightweight — 3.4 ounces in a men's size 9 — comfortable and flexible. If you like the feeling of being barefoot, you'll love wearing Invisible Shoes.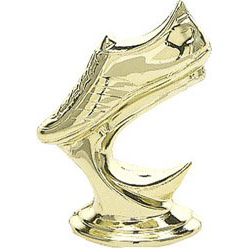 Award Winning! Invisible Shoes won the 2011 Grovie Award for Best Huaraches Running Sandal.
"Invisible Shoes took innovation to the next level. The result is a powerhouse of a sandal that has no real apparent weaknesses."
Backed by our 5,000 Mile Warranty. People ask us "How long will these last?" And, frankly, we have no idea! So far nobody has outworn the soles of their Invisible Shoes. But if you wear yours down to thinner than 1mm in under 5,000 miles, simply return them to us and we'll replace them for just the cost of shipping and handling (more details).
Compare this to regular running shoes that tell you to replace them every 300-500 miles. You could save thousands by wearing Invisible Shoes. And then compare Invisible Shoes to other "barefoot" shoes, where these are clearly closer to barefoot and at a fraction of the cost.
For everyone and every thing. Over 12,000 people, ages 5-88, in over 62 countries use Invisible Shoes for everything from walking, to hiking, to working out, to hitting the beach, running, and even tackling 100-mile ultramarathons. They're perfect for tossing in your backpack for camping.
Made for being barefoot. Our huaraches sandals are made with either our exclusive FeelTrue™ rubber or 4mm Vibram Cherry sole material. The FeelTrue™ outsoles are the only rubber outsole made specifically for barefoot sandals, developed with help from 2 former lead designers from Nike and Reebok. You can get either the 4mm Connect, for the closest thing to a barefoot feel, or the 6mm Contact if you want a bit more protection or a "smoother" ride.
Get a perfect fit. Unlike flip-flops, or even most shoes, Invisible Shoes are made to fit YOUR foot, no matter what size you wear or what shape your foot is. Wide, narrow, curved, or straight… short toes or long toes, your Invisible Shoes are made for you.
You can have fun with an easy and fun DIY (do-it-yourself) huarache project by getting an Invisible Shoe Kit, or you can have us Custom-make Invisible Shoes for you for only a bit more.
The Invisible Shoe Kit comes with complete instructions (which, actually, you'll find here) for making your own hi-tech huaraches.
For the Custom Invisible Shoes, you'll provide us with an outline of your feet and we'll take it from there, returning your "Barefoot… PLUS!" Invisible Shoes in just a few days. (Instructions about making the outline and submitting it to us are here.)
Express yourself with your Invisible Shoes. First, pick one of 9 colors of our nylon/polypropylene laces. These laces are strong, soft, don't stretch, have no edges to dig into your feet, are waterproof, colorfast and, maybe best of all, look really cool. Plus, they keep your cost down.
Then, pick a lacing style — from traditional to fashion-forward. See some examples here.
Finally, if you like, you can personalize your Invisible Shoes and make them your very own with our pendants, charms and beads.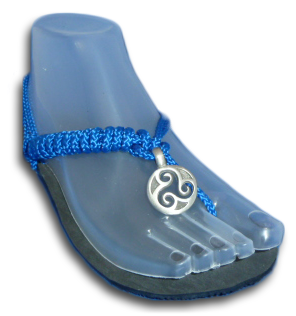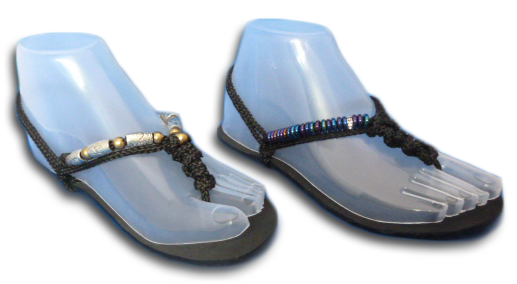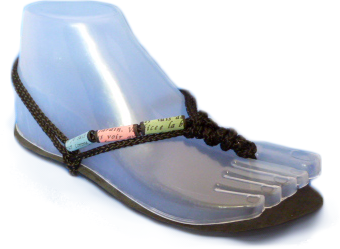 Support the Tarahumara (Rarámuri) — When you buy Custom Invisible Shoes we donate 10% of the profits to The Tarahumara Childrens Hospital Fund (TCHF) to support the indigenous people of the Copper Canyon.
We ship Invisible Shoes and kits all around the world. Your actual shipping cost is calculated and shown during the checkout process.

CLICK HERE TO ORDER ONLINE, BY PHONE, BY MAIL, OR BY FAX
You'll be taken to our Invisible Shoes store to select the product(s) you want (the store looks like the image you see below)
Ordering online is 100% safe and secure.