Tying
There are many ways to tie huaraches and lately, it seems, people are getting more and more creative.
Add your ideas to the page and let's see what we all discover.
Enjoy!
---
First, a video about that knot under the toe. If you're making shoes for a child or someone with really small feet, or if, no matter what you've tried, that knot under your toes bothers you… well, watch the video below, and then check out Brad's comments in the Invisible Shoe Forum:
Here's what a Figure 8 knot looks like: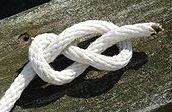 This next video shows the basic lacing pattern that begins most of the Tarahumara-style lacing styles (click to play):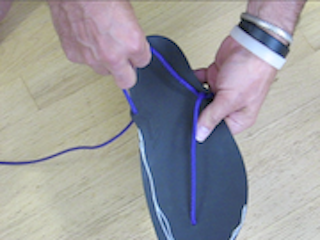 This is the tying style I've been using most often lately. It's a combination of one of the "ultra-minimalist" styles, below, and the slip-on/slip-off style (also, below). Click the picture to see the video showing how to tie this style. NOTE: Somehow, when I made this video, I did the initial lacing "backwards" — the lace coming from the toe hole to the inside ankle hole. It should actually be the standard huarache pattern, with the lace coming from the toe hole to the OUTSIDE ankle hole first.
Here are some "ultra-minimalist" tying styles. Click on the picture, below, to see the first: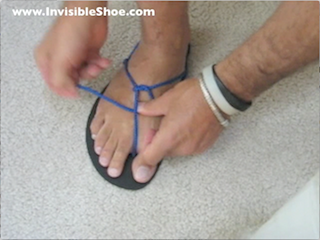 And here's the 2nd ultra-minimalist tying style (click the image to play):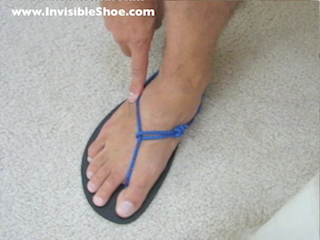 This video, below, shows both the more traditional "toga-style" as well as the "slip-on/slip-off" style of tying:
Here's that "slip-on" method, but shot with a 1st person view (so you don't have to reverse everything I'm doing):
Erika Berglund has been on FIRE creating new tying styles. Enjoy these 3 videos (Erica reports that she's switching all her Invisible Shoes to the 3rd style she shows in these videos):
Here's Sonja's "No-Toe tying method":
Kelly's No-knot method… combining Sonja's idea with a loop around the big toe to further secure the front of the sandal:

Kit Raymond has another no-toe style… with the knot moved out of the way:
Randy Kreill is one of the Invisible Shoe ultra-runners (he does 30+mile races), and he came up with a modified toga-style that he wears on those long, long runs:
Raymond Mack devised a "thong-style":
Amanda Novak has a style that's also a no-knot version, inspired by her Chaco sandals:
Zach came up with a way to move the knot completely out from under your foot: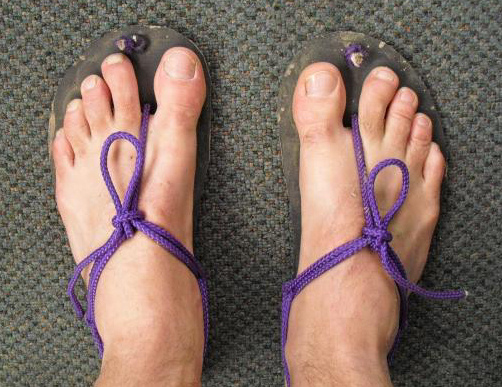 Here's Dan Mozell's Alternate Toga Style tying method:
---
Now for the decorative, fun stuff…
If you decide not to simply cut off the extra lace, there are SO many things to do with it. Here's something I call "The Phoenix Flower" because it was created by my wife, Lena Phoenix:
Here are 2 other images of the Phoenix Flower featuring none other than Lena herself: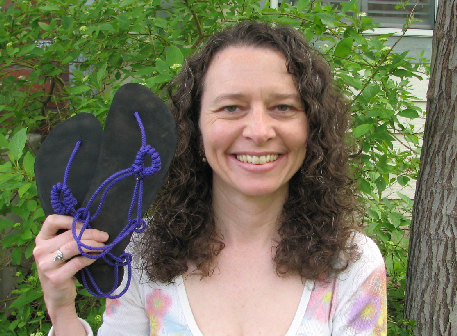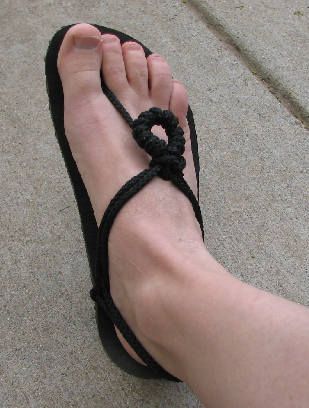 Tracy Jones riffed on Lena's idea to create the "Cute Shoes" style (a rosette version of the Phoenix Flower):
Now check out "Sylvie's Petals"… this video is a bit hard to see. I made it with my camera phone after a barefoot running talk. In essence, instead of making ONE loop through the slip-knot, Sylvie makes 4 of them… and then uses the leftover lace to wrap through and under the loops. If you play with it, you'll figure it out.
Comments
There are (95) Comments for the Tying
Post a Comment