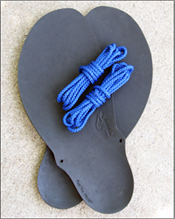 4mm Connect Kit
-
$24.95-$29.95
ON SALE: Only $19.95 (kids) - $24.95 (adults)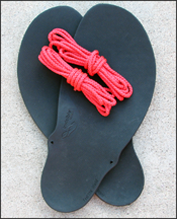 Designed by 2 former lead designers from Nike and Reebok and manufactured by one of the top outsole producers in the world, Contact and Connect are unlike anything you can get anywhere else. A perfect fit, an elegant look, and sizes from kid's 8 to men's 15.5.
Many customers can wear Contact and Connect without even trimming the new elegantly shaped sole material.
Invisible Shoes Classic DIY Kit with Vibram Cherry Outsole
We've sold over 5,000 Classic Kits since launching Invisible Shoes. And even though the Vibram Cherry was never made for barefoot running, it's still a fine product.
The Classic Kit requires more work to make than the FeelTrue™ kits -- while you might be able to use the FeelTrue™ kit without any cutting, the Classic kit requires you to cut the entire outsole from the rubber sheet, and punch all the holes. Click here to see everything required to make a Classic Kit.
To see how simple the FeelTrue™ kits are, click here. Find out more about FeelTrue™ barefoot running outsoles here.
The Classic Kit comes in 3 sizes: Kids, Standard and Large.